This is the seventh installment in an examination of customer service in nine countries – and customer service aboard the MSC Preziosa. (for the previous installment, see this link)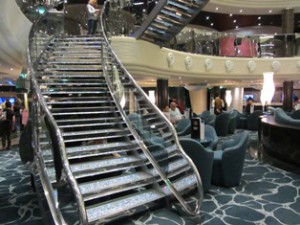 The MSC Preziosa has 17 lounges and bars to accommodate the 3,000+ passengers on board. Although there are some delightful and memorable exceptions, the employees in these lounges and bars may be the worst trained and managed teams in food and beverage history.
The worst of the worst is in The NO Bar.
Okay, it's not actually called the NO bar. The official name is Il Cappuccino. We've begun calling it the NO bar because "no" seems to be their default first answer to everything.
"You have Cafe Latte?"
"No"
"But isn't that it on the menu?
"Oh, yes"
"Can I have a Irish Coffee made with decaf?"
"No"
"How come"
"Okay, well maybe"
In the NO bar,
everything

is an effort…

A few steps from the NO bar is the wine bar, which is usually pretty good. One young Balinesian server is one of the real bright lights on this ship. But sometimes, during shift changes, people from the NO bar will fill in at the wine bar – and they bring their No's with them.

"We have a bottle of Chianti saved here. Can we get that from you?
"No. I wouldn't know anything about that"
"How about you check that little fridge beside you"
"Oh. There it is…"

The part that is getting to all of us is that, with MSC Cruises automatic 15% penalty fee attached to every bill (they call it a 'gratuity', but there is no connection between it and actual customer service), the NO people end up getting paid just as much as the exceptional people. That just doesn't seem fair. And it certainly does nothing to promote better service.
Gabrielle Rocks!
On a quick, unrelated note, there is one person on board who so far stands heads and tails abover everyone else. Her name is Gabrielle. We have no idea what she actually does on the ship, except that she is always smiling, always happy, and seems to be able to remember the names of all 3,000+ passengers.
When I start my own cruise line, she's the first person I'm hiring.
Today we are on Tenerife of The Canary Islands. Stay tuned!
—-
For Outstanding Customer Service Training Programs, visit Belding Training